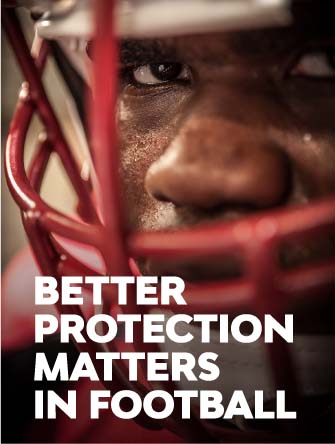 Our supplemental helmet liners are engineered to absorb, disperse and dissipate impact energy. Layered inside each is military grade, patented, coated aramid fabric, like that found in law enforcement vests. You'll be surprised how that added protection leads to greater confidence and better play on the field. And in fact, many players report no longer experiencing headaches after they slip in a Gyro. That alone is worth the price of admission! Have a Gyro on hand at your next helmet fitting to dial in the right size... feel the Unequal difference... and tell your team!

DROP A GYRO INTO YOUR HELMET
Life is too short to deal with football headaches, head trauma, and side-lining concussions. No one says any product eliminates the by-products of this collision sport, but reducing the severity index inside a helmet does make a difference in how your head feels after a game or practice and does reduce risk of head injury.
A NOTICEABLE EDGE YOU CAN FEEL
AND YOU 7on7 AND FLAG FOOTBALL PLAYERS...

THE HALO 3 IS A MUST WHEN YOU PLAY THE "NON-CONTACT" SPORTS DURING OFF-SEASON
Unequal Halos look just like a headband but offer incredibly effective head protection in a lightweight, comfortable design. Each Halo includes patented NURO® protection that Virginia Tech, in their extensive independent research, found reduces concussion risk as mush as 77%. Fit, fashion, comfort and incredibly effective protection... that's Unequal Halo!