Benefits
Serious Heart Protection
Built for high speed balls and sticks
Protection that fuels confidence
Allows full range of motion, faster response time
After extensive review, FDA issued IFU claim
Clinically tested by Tufts Medical Center. Read the study.
Reduces the risk of sudden death from commotio cordis
Peer-reviewed, published study proves protection (see Technology Tab)
Best Suited For: Lacrosse
Features
Enhances Goalie Performance
Ultra-sleek, lightweight, comfortable
Adjustable strap allows for custom fit
Heart is protected by a patented, military grade, 4-layer composite
Small and Medium come with left side HART pad accessory, for added heart protection
Removable 'gut guard' for added abdomen protection
Flex points for more comfort in multiple goalie positions
Design input from Brian Dougherty, lacrosse Hall of Fame goaltender
Watch this video to hear Brian rave about Unequal!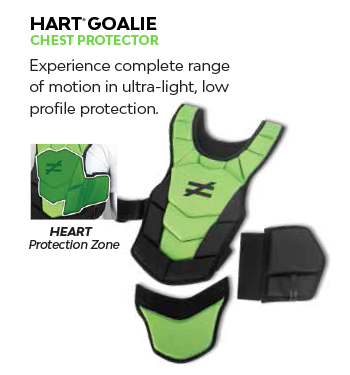 CLINICALLY TESTED BY TUFTS MEDICAL CENTER

Read the Peer-reviewed, published study in Clinical Journal of Sport Medicine, March, 2016, "Development of a Chest Wall Protector Effective in Preventing Sudden Cardiac Death by Chest Wall Impact (commotio cordis)"

When incorporated into a suitable garment and worn in accordance to instruction, the HART CC (commotio cordis) Pad device has been shown to reduce the mechanical impact received by the chest that may facilitate the reduction in risk of commotio cordis.
THE TUFT'S
STUDY CONCLUDED...
"It is reasonable to expect that chest protector designs incorporating these novel materials (Unequal HART) will be effective in the prevention of commotio cordis on the playing field."